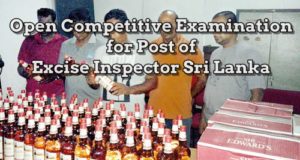 This is another Open Competitive Exams for Graduates for entry into the Post of Excise Inspector Sri Lanka under Excise Department of Sri Lanka. The major duties of Excise inspector are to involve into the operation and monitor of junior staff officer under the process of standardization of licit alcohols and prevention of illegal alcohols and other dangerous materials. The post is also the highly competitive job in Sri Lankan government vacancy sector and normally Sri Lanka Excise Department call for this post once in several years by considering the vacancies they have.
Sri Lanka Education Administrative Service post is permanent and pensionable, Contributions have to be paid for the Widows'/Widowers' and Orphans' Pension (W&OP).  Following are some of the details related to this position.
Methods to recruit for the Excise Inspector Sri Lanka
Recruitment for Excise inspector Sri Lanka will be on the Open Competitive Examination and an interview if it is found that the number of qualified applicants is equal to or less than the number of existing vacancies, they may be called to a structured interview without conducting a written examination.
Educational Qualifications
The candidate who is wishing to apply for Excise Inspector Sri Lanka post needs to full fill following educational requirements.
(i) The applicant should be a Graduate of a recognized University.
(ii) Credit passes for Mathematics and English Language at the G. C. E. (Ordinary Level) Examination.
(iii) The minimum height measured bear footed should be 167.6cm (5 feet and 06 inches). The size of the chest when exhaled should be 83.8cm. (33 inches).
Age Limit
Applicants should be not less than 21 years and not more than 35 years
Open Competitive Exam
From this exam check the applicant intelligence, decision-making, and logical thinking. Duration of this exam is 2 hours. Total Marks 100.Questions relating to Mathematical/Graphical problems, writing of synonyms/antonyms, making phrases/sentences and filling blanks will be included in the paper.
Structured interview
The applicants, who score 50% or more marks in the written examination, will be called for the interview as per the number of existing vacancies.
Training Period
Three months training will be provided to the selected applicants. The training of persons who are unable to pass the examination conducted at the end of this training period will be terminated.
How to apply for this post
Excise Department of Sri Lanka publish the vacancies for this post on Sri Lanka government gazette and by referring and keep eye on Government Gazette you can find out vacancies for this position. Following are the Latest Gazette vacancies of Excise Inspector Sri Lanka at excise department of Sri Lanka
Gazette for the post of Excise Inspector