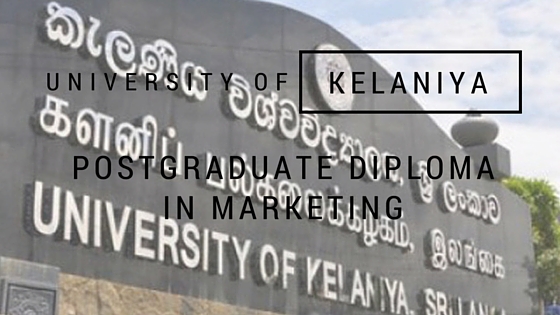 University of Kelania is a leading edge domain of business management education . In par with its caliber, the Department of Marketing Management conduct Postgraduate Diploma in Marketing Program. Department of Marketing Management (DMM) is well-known as an excellent research oriented Department with good talented students, successful alumni . There are very few courses conducted under marketing stream in state universities and this diploma program in one of them. Main Objectives of Postgraduate Diploma in Marketing Programme is to provide a sound theoretical  and Practical knowledge  of marketing in the dynamic business environment.
Teaching Methods of Postgraduate Diploma in Marketing  program is based on lectures, Individual and Group assignments, presentations, research project and Simulation game for industry practices.
Relevant details of the program on current year published on Paper advertisements and University of Kelaniya website.
Entrance requirements :
Holding one of following qualification is required to enter in to this diploma programme.
Obtain University degree in any stream (Local or Foreign)
Or
Higher Diploma / Advanced Diploma under Business Management or related to stream with Working experience
or
Professional qualification under Marketing, HR, Finance along with working Experience.
or
Any other professional qualification which approved by University of Kelaniya senate.
Duration       : 01 Year
Medium         : English
Subjects of Postgraduate Diploma in Marketing Programme
Following are the subjects which need to follow on this  Postgraduate Diploma in Marketing Programme which conducted by University of Kelaniya.
Managerial Aspects of Marketing
Contemporary Consumer Behavior
Services & Retail Marketing
Strategic Management Accounting
Contemporary Marketing Strategies
Brand Management
Marketing Research Project
Digital Marketing Strategy
International Trade & Marketing
Organizational Behavior
Those who successfully completed above mentioned course conducted by University of Keleniya got good opportunity on employability and.
This is also ideal for those who wishing to gain good knowledge in the area of expertise to gain more career advancements.
Education Pathway of the Programme
Following are the pathway for those who are wising to compleate this Higher Diploma in Marketing .
This is the third level of University of Kelaniya Marketing diploma programme .
those who are successfully completed this postgraduate Diploma in Marketing diploma may able to continue their education further on MBA in Marketing which conducted by University of Kelaniya.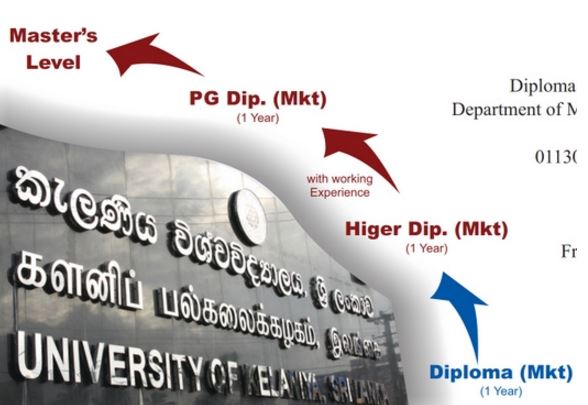 Contact Details:
For further information's regarding the program details course fees and other relevant information's you may contact for following contact details .
Programme coordinator:
Mr. Nilantha Perera (Senior Lecturer, DMM)
Postgradueate Diploma in Marketing Programme,
Department of Marketing Managemenet,
University of Kelaniya
Tel: 0112903813 / 0777702005
Sinhala/English
Ms. Charuni/Harshi
Tel: 0112903620
email: pgdmkt@gmail.com
Tamil
Mr. Ravi
Tel: 0112903620
Web: http://www.kln.ac.lk/fcms/dep/dmm/index.php/programs/external-programs/pgdmkt