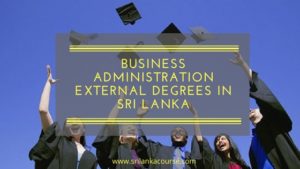 There are so many external degrees in Sri Lanka conduct by several national universities of Sri Lanka for the sake of student who are eligible to enter in to Sri Lankan university but unfortunately unable to attend any of them because of lack of Z Score.
There are more students who follow commerce stream on Advanced Level per year but few of them got the chance to enter in to state university and obtain a degree from advanced level. As a solution there are external degree programs were conduct by several state universities in Sri Lanka and most of the students who successfully passed G.C.E Advanced Level and unable to select in to state university are get enroll with this external degrees of state universities.
Business administration degrees in Sri Lanka are considering as one of the best degree for commerce and account student. There are more career opportunities for those who get a degree in Business Administration Area.  In government sector and private sector of Sri Lanka external degrees and internal degrees got the same recognition.
The cost which take to follow any external degree program on state universities are much less compare with Degree programs conduct under private universities. Since these degrees also got good recognition most of students tends to follow external degrees.
Following are Three Mains State Universities conduct Business Administration External degrees in Sri Lanka.
Common Entrance Qualifications to Enter in to follow Business Administration External Degree
The Applicant need to fulfill following qualifications to enter in to the mentioned external degree progrmmes conducted by the most state univiersitie.
Pass three subjects on any field in G.C.E Advanced Level exam of Sri Lanka
Or
Application Should follow any professional or academic qualifications which approved by the University of Sri Jayawardanapura .
The age limit should be above 18 at the time of the closing date of application
Duration of Study programs.
The normal Study period for this external degree programmes are three years.
University of Sri Jayawardenapura Business Administration External Degree
University of Sri Jayawardenapura is one of the highly recognized university of Sri Lanka and this university got good reputation for the filed of commerce and management . Bachelor of Science in Business Administration (General) External Degree is one of the external degree conducts under this institute.
More information's of University of Sri Jayawardenapura BSc Business Administration External Degree
University of Rajarata Business Administration External Degree
Rajarata University also conduct Business Administration External Degree program and Rajarata University External Degree are also famous among Sri Lankan students for conducting high quality degree programs . At currently they are not update their website so its difficult to find out that they still conduct this program.
More information's of  Rajarata University  BSc Business Administration External Degree
Sabaragamuwa University Bachelor of Business Administration (Agribusiness Management)
University of Sabaragamuw also conduct Business Administration external degree program and the speciality of this program is they conduct this degree on focusing agribusiness.
More information's of Sabaragamuwa University Business Management Degree on Agri Business.
Hope you have some understanding on the Business Administration External Degree programs conduct under State Universites. You can get state recongised Degree in the filed of Business Administration by following the mentioned programs.
Other Related External Degree Programes Conduct Under State Universites
Compleate Guide to University of Colombo External Degree Program
UGC Approved External Degrees in Sri Lankan University
Jayawardenapura University External Degree on BSc Management