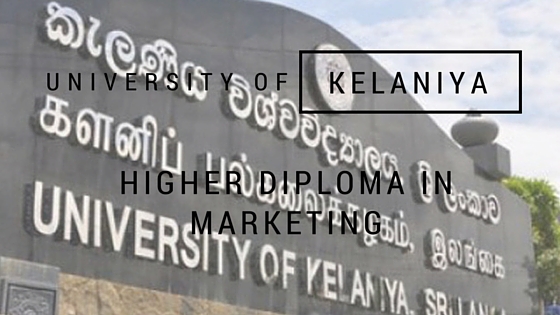 The Higher Diploma in Marketing is another Marketing based diploma program conducted by the department of Marketing Management under University of Kelaniya. Department of Marketing Management (DMM) is well-known as an excellent research oriented Department with good talented students, successful alumni . Objective's of University of Keleniya Higher Diploma Marketing program are to provide good theoretical knowledge which is necessary under business atmosphere and enhance the decision-making ability of managerial level.
There are very few courses conducted under marketing stream in state universities and this diploma program in one of them.  Relevent details of the program on current year published on Paper advertisements and University of Kelaniya website.Following are some of the details of this course and those who are wish to follow this higher education program may contact through the contact details mention bellow for more information s.
Entry Qualification to enter University of Keleniya Higher Diploma
Holding one of bellow qualification can join for University of Keleniya Higher Diploma programme
Hold a Diploma preferably in Marketing or any other Business Management discipline from a recognized university.
Obtain Diploma in Marketing or any other business management related discipline
Obtain Professional qualifications listed bellow
Institute of Chartered Accountants of Sri Lanka (CASL)-CA Professional – Strategic Level 1 (Diploma in Accounting and Business)
Chartered Institute of Management Accountants of United Kingdom (CIMA),Operational Level- Diploma in Management Accounting.
Institute of Certified Management Accountants of Sri Lanka (CMA),Level 2 – Operational Level (CMA Diploma Certificate in Accounting & Business Studies)
Association of Chartered Certified Accountants (ACCA),Diploma in Accounting and Business
The Chartered institute of Marketing (CIM),CAM Diploma in Marketing Communication or The Professional Diploma in
Marketing
The Sri Lanka Institute of Marketing Sri Lanka (SLIM), Managerial Level or Diploma in Marketing, Diploma in Brand Management, National Diploma in Sales Management
Institute of Bankers of Sri Lanka (IBSL)Diploma in Banking & Finance (DBF)
Advanced Diploma in National Institute of Business Management (NIBM)
Education Pathway of the Programme
Following are the pathway for those who are wising to compleate this Higher Diploma in Marketing .This is the second level of University of Kelaniya Marketing diploma programme and  those who are successfully completed this Higher Diploma in Marketing diploma may able to continue their education further on postgraduate Diploma in marketing program and MBA in Marketing which conducted by University of Kelaniya.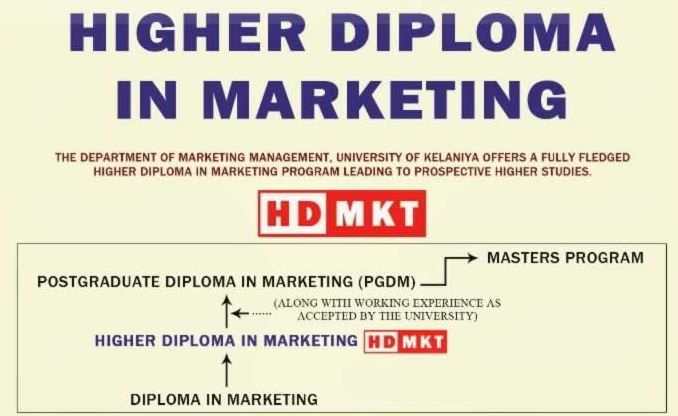 Medium of Study : English Medium
Those who successfully compleated above mentioned course conducted by University of Keleniya got good opportunity on employability and this is also ideal for those who wishing to gain good knowledge in the area of expertise to gain more career advancements.
Contact Details of University of Keleniya Higher Diploma Programme
For further information's regarding the program details course fees and other relevant information's you may contact for following contact details .
Dr.H.M.R.P.Herath,
Senior Lecturer / Coordinator for HDMKT,
Department of Marketing Management,
University of Kelaniya.
Phone: 0718227769
Email: hdipmkt@gmail.com
Help desk contact
Ms. Charuni / Harshini – 0112903620
Web : http://www.kln.ac.lk/fcms/dep/dmm/index.php/programs/external-programs/higher-diploma-in-marketing