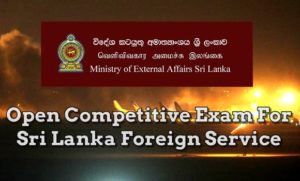 Sri Lanka Overseas Service is one of the highly recognized government job in Sri Lanka and this service is commonly known as Sri Lanka Foreign Service. This service was established in 1949 October as Ceylon overseas Service and the man objective is to dealt with foreign affair. After Sri Lanka became republic country in 1972 year this service name was changed as Sri Lanka Overseas Service. Basically Sri Lanka Foreign Service (Overseas Service) has three types of grades such as.
Grade I officers
Grade II officers
Grade III officers
They are working under three major areas which further clarified as under motioned Ministry of Foreign Affairs
Diplomatic mission and Consulate.
Open Competitive Exam For Sri Lanka Foreign Service
Those who obtained A degree from a recognized University or foreign university degree holders which their degrees accepted by the University Grant Commission are eligible to apply for the this Service thorough Open Competitive Examination for Recrument to the Grade III of Sri Lanka Foreign Service.
Age limit : Degree Holders who are in between age of 22-32 are eligible to apply for this position and Public Servants which the age bellow of 40 years can able to apply for this examinations also.
The examination of Sri Lanka Foregin Service held once in few years so there are huge completion for this examination. Those who successfully selected for Sri Lanka Foreign Service by the examination conduct a training program at Sri Lanka Institute of Development Administration (SLIDA) and Bandaranaike International diplomatic Training Institute.
Medium and Subjects of Open Competitive Exam For Sri Lanka Foreign Service
The Open Competitive Exam For Sri Lanka Forign Service will held on three language Sinhala, Tamil and English Medium and the applicant got the choice to select one medium of above three languages. There are 6 exams includes for this Open Competitive Exam For Sri Lanka Forign Service and each exam includes 100 marks. Following are the areas of six exams of this open competitive examination.
General Question Paper
World Facts I
World Facts II
Essay
Summary Writing
General Knowledge and IQ
Those who qualified to face interview must obtain at least 300 marks for the all six examinations and at least 40% of each question paper. The total mark for Interview is 100.
Over 5,000 Sri Lankan graduates faced the Open competitive examination for admission to Grade III of the Sri Lanka Foreign Service 2013/2014 and a list of 42 applicants selected on the basis of a competitive written examination conducted by the Examinations Department. Hope that the mention information's will helpful if you have any intention to enter this service. For more information's visit following sites.