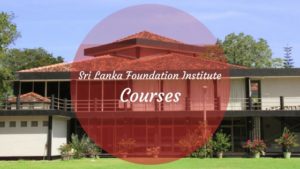 The Sri Lanka Foundation Institute is one of well-known  education institute in Sri Lanka which was established in 1974.
This institute was regularized under parliament act and Sri Lanka Foundation Law.
There are so many Higher national Diploma, National Diplomas , Certificate Courses and Workshops conducted under this institute.
Since Sri Lanka Foundation Institute is a semi government institute most of the courses conducted under this institute got good recognition in the relevent industries.
Following are the courses and contact details of the programs which conducted at this institute.
HIGHER NATIONAL DIPLOMAS at Sri Lanka Foundation Institute
HND IN JOURNALISM & MEDIA MANAGEMENT
HND IN TRAINING & COACHING
EXECUTIVE DIPLOMA IN MICRO FINANCE & LIVELIHOOD DEVELOPMENT
EXECUTIVE DIPLOMA IN MARKETING & BUSINESS DEVELOPMENT
HIGHER NATIONAL DIPLOMA IN COUNSELLING
HIGHER NATIONAL DIPLOMA FAMILY COUNSELLING
HIGHER NATIONAL DIPLOMA IN FILM AND TV
HIGHER NATIONAL DIPLOMA IN GRAPHIC DESIGNING
HIGHER NATIONAL DIPLOMA IN ENGLISH
HND IN SPORTS STRENGTH & CONDITIONING
NATIONAL DIPLOMAS
NATIONAL DIPLOMA IN APPLIED CRIMINOLOGY & CRIMINAL JUSTICE
NATIONAL DIPLOMA IN CAREER GUIDANCE
NATIONAL DIPLOMA IN CHILD CARE AND PROBATIONARY
NATIONAL DIPLOMA IN PROFESSIONAL DEVELOPMENT
NATIONAL DIPLOMA IN EVENT MANAGEMENT
NATIONAL DIPLOMA IN HRM
DIPLOMA IN PSYCHOLOGY
NATIONAL DIPLOMA IN INDUSTRIAL/ORGANIZATIONAL PSYCHOLOGY AND COUNSELLING
DIPLOMA IN CLINICAL & ABNORMAL PSYCHOLOGY
DIPLOMA IN COUNSELLING
DIPLOMA IN HEALTH PSYCHOLOGY
DIPLOMA IN CHILD PSYCHOLOGY & COUNSELLING
DIPLOMA IN PSYCHOLOGY OF MARKETING
DIPLOMA IN EDUCATIONAL PSYCHOLOGY
NATIONAL DIPLOMA IN ENGLISH
NATIONAL DIPLOMA IN TAMIL LANGUAGE (WEEKDAY/WEEKEND)
NATIONAL DIPLOMA IN CHOREOGRAPHY
DIPLOMA IN SPORTS STRENGTH & CONDITIONING
DIPLOMA IN COSMETOLOGY
CERTIFICATE COURSES
CERTIFICATE COURSE IN HUMAN RELATIONSHIPS AND CONFLICT MANAGEMENT
CERTIFICATE COURSE IN POLITICAL THEORY AND PRACTICE
CERTIFICATE COURSE IN PROFESSIONAL DEVELOPMENT
CERTIFICATE COURSE IN CUSTOMER CARE
CERTIFICATE COURSE IN EVENT MANAGEMENT
CERTIFICATE COURSE IN SKILLS ENHANCING FOR FOREIGN EMPLOYMENT AGENCIES
CERTIFICATE COURSE IN ENTREPRENEURSHIP AND BUSINESS DEVELOPMENT
CERTIFICATE COURSE IN HRM
BASIC COURSE IN LAW FOR GENERAL PUBLIC
CERTIFICATE IN COUNSELLING
ELECTRONIC CINEMATOGRAPHY
CERTIFICATE COURSE IN FITNESS TRAINERS
CERTIFICATE COURSE FOR ASSISTANT PHYSIOTHERAPIST & MASSEUSE
CRAFT LEVEL CERTIFICATE IN HOTEL MANAGEMENT (BERENDINA NGO)
BASIC ENGLISH
 INTERMEDIATE ENGLISH
ADVANCED ENGLISH
CONVERSATIONAL ENGLISH
CERTIFICATE COURSE IN ADVANCED CONVERSATIONAL ENGLISH
CERTIFICATE COURSE IN BUSINESS ENGLISH
CERTIFICATE COURSE IN BASIC TAMIL (WEEKDAY/ WEEKEND)
CERTIFICATE COURSE IN SPOKEN TAMIL
WORKSHOPS
WORKSHOP ON PRESENTATION SKILLS
WORKSHOP ON COMMUNICATION SKILLS & SELF BRANDING
WORKSHOP ON EFFECTIVE COMMUNICATION SKILLS
WORKSHOP ON BUSINESS COMMUNICATION SKILLS
 ICT FOR PUBLIC SECTOR
FILM APPRECIATION (WEEKLY PROGRAMME)
WORKSHOP ON MEDICAL TAPING / TERRA BAND /SUMBA /AEROBICS
CONFLICT RESOLUTION IN THE WORKPLACE
 CAPACITY BUILDING
CUSTOMER CARE MANAGEMENT
PROJECT PROPOSAL WRITING
GOOD GOVERNANCE
WORK LIFE BALANCE
POLITICAL LEADERSHIP
WORKING WITH PEOPLE
 INTERNATIONAL PROGRAM IN HIGHER EDUCATION MANAGEMENT
CONSULTANCY & CORPORATE PLANS
TRAINING & CONSULTANCY
all the details of courses and workshop programmes conducted under Sri Lanka Foundation institute was collected from their website. For more information visit the website of Sri Lanka Foundation or contact on following contact details.
Contact for more details 
Sri Lanka Foundation Institute
 No.100,
Sri Lanka Padanama Mw,
Independence Square,
Colombo 7,
Sri Lanka.
Telephone Number(s):
Chairman : +94-11-2699482 General: +94-11-2691814 / 2679685
Fax Number(s) : +94-11-2698377/ 2691028 / 2679686/ 2696889
E-mail Address(s) :info@slf.lk
www.slf.lk