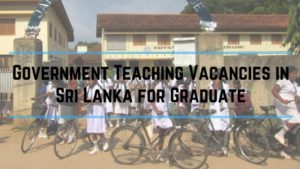 Most of the degree holder are like to search teaching vacancies in Sri Lanka to become Graduate Teacher and its consider as noble profession . These type of teachers  who obtain a degree are know as Graduate teachers in Sri Lanka in Sri Lanka Teacher Service .  The post is permanent and pensionable and those who occupied in this job also got benefits of Widows and Orphans/Widowers and Orphans Pension also.
The selected applicants will be appointed to the Grade 3-1 of the Sri Lanka Teachers' Service subjected to the General Conditions .
Entrance Education Qualifications:

Having passed 6 core subjects in not more than two sittings with three credit passes having passed Mother Language and Mathematics at the G. C. E. Ordinary Level Examination.
and
Applicant need to get pass G.C.E Advanced Level Examination minimum 03 subjects in one sitting.
and
Obtain a degree on relevant subjects form Recognized university at University Grants Commission of Sri Lanka
or
Recognized Degree form from an Institution recognized by the University Grants Commission as an Institute of awarding Degrees.
General Qualifications:
Applicant Should be a Sri Lankan Citizen and He/She Should be of a good moral character and should have a sound mental and physical fitness to work any part of Sri Lanka.
How to Apply for this Graduate Teaching Vacancies in Sri Lanka:
Action will be taken to provide a register prepared by which showing in national schools for the appointees who have qualified from the interview for naming five schools closest to their residences respectively for which they are willing to get their appointments in relation to the subject they have fulfilled the necessary qualifications.
Following are example for " Recruitment of Graduate Teachers of Class 3 Grade I of the Sri Lanka Teachers' Service for Teaching the Subject of Physical Education" Year of 2014 .
There are big opportunity for graduate to become teacher in Sri Lanka.
Apart of Graduate Teacher there are more government job opportunities for Sri Lankan graduate and all you need to do is keep touch with sri Lanka gazette .
You can view sri Lanka gazette on following website.
http://documents.gov.lk/ under "publication" tab go for gazette
Those who are interested to Graduate Teaching Vacancies in Sri Lanka to become a graduate teacher should get alert on  government gazette on every Friday and most of government institutes publish their vacancies on newspapers also .
Some websites published these newspaper vacancies which is also a good resource to find out suitable vacancies for job finder.