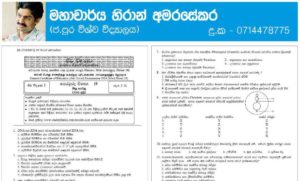 Get ready for past papers are really essential  for those who are plan to face GCE AL 2017 .Model papers are more likely to relate past papers which focusing on the certain exams. The Department of education in Sri Lanka has not published 2017 A/L Model Papers for this year. However Lakbima National newspaper also published a set of model papers by famous teachers under certain subjects.  In here Biology , Combined Maths and Economic models papers are provided by well known teachers in Advanced Level in Sri  Lanka. Following are several model papers which published on 2017 June 17 Lakbima Newspaper.
2017 AL Biology Model Papers by Prof Hiran Amarasekera
Prof Hiran Amarasekera who is pioneer in Sri Lankan higher education industry and the author of  studentlanka.com website also published several important past papers for the biology students in Sri Lanka.v
This model paper consists 26 mcq model papers and the answers for this model paper can get from http://studentlanka.com/result website.
2017 AL Economics Model Papers by Amaranath Batagoda
There are 16 mcq problems are consist in this model paper for Economics paper
2017 AL Combined Mathamatics Model Papers by Nirosh Chaminda
There are 10 model questions and their relevent answers were provide in this model paper of combined mathematics II paper.
The original Newspaper article of Lakbima Special Edition for 2017 Model papers can dowload in following site.