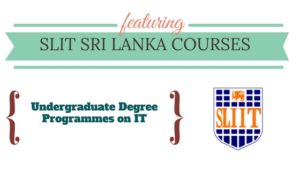 SLIT Sri Lanka is one of the Sri Lankan prime degree awarding university which is approved by University Grant Commission of Sri Lanka.
There are so many private degree program available in Sri Lanka for the area of information technology and computer studies.
This is the most demanding private education area in Sri Lanka and today we are going to discuss the pioneer of Private education in information technology industry in Sri Lanka.
This institute was starred in the year of 199 with 400 students and now they accommodate over 7000 students under various fields of specialization.
SLIT is generally popular for Computer and IT based education and they provide quality degree program which accept national and international level.
Faculty of Computing at SLIT is focused on five areas of education which are
Computer Systems & Networking
Information Systems
Software Engineering
Interactive Media.
Sri Lanka Institute of Information Technology is the most recognition private education institute in Sri Lanka under Information Technology stream.
Most of the following degrees offers at this institutes were recognised by the university grant commission of Sri Lanka so for those who follow the degree programmes conducted at this institute doesn't need to worry on government recognitions of it.
Following are some of the Undergraduate Degree programmes conducted by SLIT Sri Lanka which is one of the Sri Lankan prime degree awarding university .
BSc (Hons) in Information Technology
Specializing in
Information Technology
Computer Systems and Networking
Information Systems Engineering
Software Engineering
Interactive Media
Cyber Security
BSc in Information technology Specializing in
Information Technology
Interactive Multimedia Technology
Curtin University-Australia Foreign Degree Programmes
BSc ( Computing ) Software Engineering
BSc in Information Technology
Basic Entry Requirements for entry in Undergraduate Degrees
Student need to get Passes in 3 subjects at the G. C. E. Advanced Level Examination (Sri Lanka / London) at any stream in one sitting.
Student also needs to get pass at the Aptitude Test conducted by the SLIT Sri Lanka.
Most of useful graduates under Sri Lanka Institute of Information Technology (SLIT) got so many job opportunities under Private sector as well as government sector.
This is one of the leading institute in private education in Sri Lanka which much famous for IT related educations.
Sri Lanka Institute of Information Technology is also a semi government institute and apart of Information Technology study the are also conduct programmes under management and Engineering fields also.
Contact Details of SLIT Sri Lanka
The main university is located at Malabe and they also got three regional branches at Matara, Kandy and Jaffna.
For more information's and calcification you may contact following contact details.
Malabe
Sri Lanka Institute of Information Technology.
New Kandy Rd,
Malabe.
Phone :+94 11 241 3900
Fax:+94 11 241 3901
E-Mail:info@sliit.lk
Metro
Sri Lanka Institute of Information Technology.
Level #16, BOC Merchant Tower,
St Michael's Road,
Colombo 03.
phone:+94 11 230 1904
Fax:+94 11 230 1906
E-Mail:info@sliit.lk
Matara
Sri Lanka Institute of Information Technology.
No. 24,
5th Floor,
E.H.Cooray Tower,
Anagarika Dharmapala Mawatha,
Matara.
phone:+94 41 2222 958 | +94 41 2221 048
Fax:+94 41 222 1048
E-Mail:infomatara@sliit.lk
Kandy
Sri Lanka Institute of Information Technology.
Mahinda Rajapaksha ICT Building
No: 76,
Peradeniya Road,
Gatambe, Kandy
phone:+94 81 720 4204 /+94 81 238 7888
E-Mail:info@sliit.lk
Jaffna
Sri Lanka Institute of Information Technology.
53,
Point Pedro Road,
Jaffna.
phone:+94 21 720 4204
+94 21 720 0406
E-Mail:info@sliit.lk