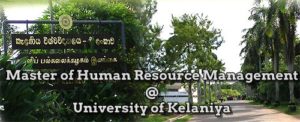 Master of Human Resource Management (MHRM) Under University of Kelaniya is one of the leading postgraduate management education institutes in Human Resources. Human Resource is designed to develop Human Resource Management Professionals and provide for career development and enhancement of Human Resource Professionals in Sri Lanka. With the continuous improvement of syllabus, design and delivery, Master of Human Resource Management at University of Kelaniya as one of the most preferred study programme in Human Resource field. The Department of HRM of Kelaniya University is the first academic Department in the Sri Lankan higher education system to offer a Post Graduate Diploma in HRM. The success behind the programme is the commitment and continuous improvement by the highly panel of academically and professional qualified education facilitators.
Areas cover one Master of Human Resource Management at University of Kelaniya Course
Following are the areas which cover under this postgraduate Human Resource Management at University of Kelaniya.
Introduction to Business
Managing Organizations
Introduction to People Management
Socio-Psychological Aspects of the Organization
 Managerial Communication
Administering People in Business
Legal Aspects of Managing People
Human Resource Information Management
Economic Aspect of Human Behavior
Maintaining People in Business
Human Resource Development
Organizational Behavior
Strategic HRM
International HRM  and Research Methodology
Eligibility Entrance Requirements for Human Resource Management at University of Kelaniya
Candidates should posses a degree from a recognized university / Institutions relevant to the scope of the degree.
Or
Professional qualification from a recognized body which acceptable to the University Senate.
Selection procedure
Candidates will be selected through an interview and test. Satisfactory performance at selection test (Interview/ examination) with good command of English is essential to select for this postgraduate degree programme.
Duration of the program
Two years (those who wish to discontinue the program after the successful completion of the first year Post graduate diploma in HRM). The lectures conducted on weekends.
Medium of Study
All the academic programmes conducted on English Medium
This qualification provides a cutting edge advantage for the student who follows the programme.
Contact for further details
Those who are wising to apply for the Master of Human Resource Management at University of Kelaniya may contact the following contact details and get necessary information's of the program such as Date of Application call, Payment for the program, Guideline for Applying, Selection Criteria, Performance Criteria, Resource Personals and more.
Department of Human Resource Management
Faculty of Commerce & Management Studies
University of Kelaniya
Kelaniya
Sri Lanka
Tel: +94112914483
Coordinator (MHRM): +940713131246
email: hrm@kln.ac.lk
web: www.kln.ac.lk/fcms/dep/Hrm