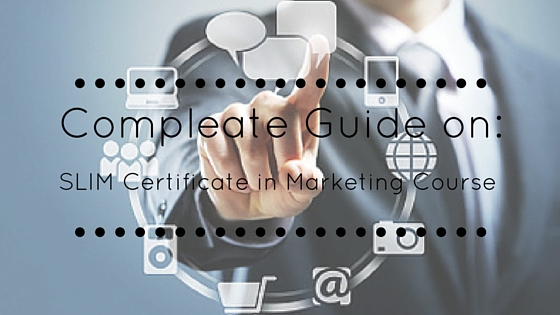 Sri Lanka Institute of Marketing (SLIM) is only professional body for Sri Lankan Marketer . Sri Lanka Institute of Marketing was established in 1980 by a parliament act and now this institute is also member of ASIA Marketing Federation, which is also affiliated to world marketing association Sri Lanka Institute of Marketing is also proud member of federation of Chamber of Commerce and industry in Sri Lanka. Slim is also conducting some educational courses under the area of marketing which leads to obtain the membership of the institute.
This program is tailored to those who pursue higher education on the  field of marketing to improve the knowledge and technique to work in Sri Lanka as well as aboard.We have already discussed that the course and levels of the program for preliminary certificate to postgraduate diploma in marketing in our previous posts. Sri Lanka Institute of Marketing (SLIM) institute has been increase their popularity among Sri Lankan students over last few years and number of students those who follow Certificate Marketing  course is also increased gradually.
Today we are going to discuss some other certificate level course which conducts at this institute under the area of marketing.
Certificate of Pharmaceutical Marketing
The certificate in pharmaceutical marketing target for medical delegates and professionals who involved in to pharmaceutical marketing industry and school leavers who are interested to enter in to this industry . Those who follow this pharmaceutical marketing course can able to gain gook knowledge and competency in this Pharmaceutical marketing industry.
Minimum Entrance Requirements
Applicant who are interested to follow the mentioned course conducted by marketing institutes in Sri Lanka need to obtain one of following qualifications to apply for enter in to this programme.
Applicant needs to get pass G.C.E Ordinary Level examination with a minimum 6 months experience I pharmaceutical industry plus excellent communication skills in English language.
OR
Applicant need to get Pass G.C. E Advanced Level examination under the area of bio Stream
Duration of Course: 6 Months
Medium of Study: English Language
Certificate in Public Sector Marketing
Certificate in Public sector marketing is mainly targets for those who employed in public sector and for those who wishing to get experience on marketing under state sector.
Contact Details of Sri Lanka Institute of Marketing 
For those who want to get more information's about the course which conducted in Sri Lanka Institute of Marketing (SLIM) can get relevant detail such as their courses details, Course fees and more information's of the course which you intend to follow on following contact information's.
SLIM Home
No 94, Ananda Rajakaruana Mw, Colombo 10
Tel : 011 2675000
Fax: 011 2681660
Email:
Education Division
Inquiry@slim.lk
Project and Programmes Division
events@slim.lk
SLIM Membership
membership@slim.lk
SLIM Business School
No 50,Kitulwatta Road,Colombo 08
Tel : 011 4722522
Email:
Education Division
colombo@slim.lk
Kandy
No 524/1, Peradeniya Road, Kandy
Tel : 081 2203006
Fax: 081 2203006
Email: kandy@slim.lk
Matara
213, 2nd floor Anagarika Dharmapala Mawatha Matara
Tel : 041 2227900
Email :matara@slim.lk