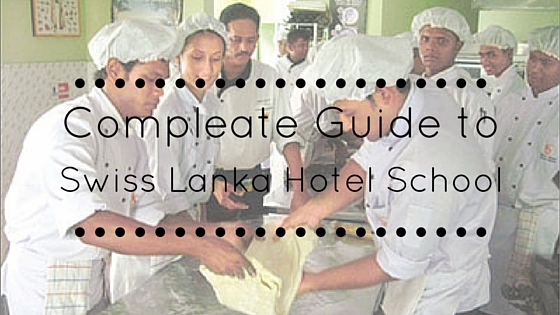 Swiss Lanka Hotel School is one of the leading education institutes in Sri Lana under Hotel and hospitality industry. Those who successfully completed courses and programmers under this institute got so many employment opportunities under hospitality industry in Sri Lanka. There are so many different areas of expertise teach under this institute and following are some of the courses and programs teach under this institute.
Are you confused with so many higher educational options paths which shown in newspaper and websites. All you need to do is to find proper institute which fulfill your needs ,select right course to follow by considering future demanding industry which you able to gain better career prospects. Your may do your higher education studies about next three to six years but what you study one those following years may depend the rest of your life. So studying under hotel and hospitality industry is also good option by focusing future demands . Following are some of the programmes conducted at this institute.
Basic Level Courses @Swiss Lanka Hotel School
The basic level courses conduct at this Swiss Lanka Hotel School target beginner level students and school leavers who are interest of enter in tourism industry. Even for those who successfully completed mentioned basic level courses are also able to find good job opportunities in Hotels in Sri Lanka. Following are some of the Basic Level Courses conducted in this institute.
International Cooker Course
Pastry and Bakery Course
Certificate in Hotel Operation
Housekeeping and Accommodation Service Course
Food and Beverage and Restaurant Service Course
Diploma Level Course
Most of the Diploma level course conducts at this institute target for those who seek more qualification and career advancement in Hotel and Hospitality related industry. Following are some of the diploma related courses conducted at this institute.
Diploma in Patisseries
Diploma in Food preparation and culinary arts
Diploma in Hotel Management
International Diploma in Hospitality and Tourism Management
International Diploma I Hospitality and Tourism management is one of the leading course conducts at this institute. Those who successful completed this international diploma in Swiss Lanka Hotel School will transfer in to Informatics Advanced Diploma which conducted in Singapore and for those who successfully completed this advanced Diploma are also able to enter in to Bachelor of Hospitality Management Degree which offers form university Southern Queensland, Australia.For those who follow international diploma in hospitality and tourism management are able to continue their Higher Studies up to degree level.
Some of the Basic and Diploma level course conducted in this institute lead to city and guilds international vocational qualification also.
Contact Details of Swiss Lanka Hotel School
For those who want to get more information's about the course which conducted in Swiss Lanka Hotel School can get relevant detail such as their courses details, Course fees and more information's of the course which you intend to follow on following contact information's.
SWISS LANKA HOTEL SCHOOL (PVT) LTD
14 SRI DHAMMA MW COLOMBO 10
HOTLINE: (+94) 112 67 47 47
INQUIRIES: (+94) 112 689 555
EMAIL: INFO@SWISSLANKA.COM
WEB: http://www.swisslanka.com/