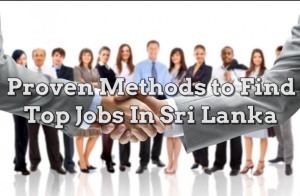 Having a job is essential for every person in this modern society and find a proper job is one of the hardest part to do in life. Sometimes you may wonder how to find a top jobs in sri lanka that I want to get in. There are few ways to enter in to your dream job after considering what type of job which you want to enter. Curriculum Vitae- Bio Data and Cover letter are essential letters which you need to create before applying any professional occupations. Following are the top six strategies to find your dream jobs in Sri Lanka.
First Method to Top Jobs In Sri Lanka: Check Company Website's
Go for the websites of the companies and check the links called "My Career", "Career" or "Career Opportunities "If there is any proper job which suites you, submit your CV & Cover Letter and apply for relevant job opportunities.
Second Method: Post CV for Company Address
Post your Covering letter and Curriculum Vitae (CV) for relevant Human Resource officer / Directors Name for the job which you want to get enter. (you can easily get the address of the company by google the company name or enter in to company's website)
Third Method: Person who know the Company
Find a person who already working in the company or well-known person of the company which you want to get in and send your Covering letter and Curriculum Vitae (CV) with that person to the appropriate executive of recruitment.
Fourth Method: News Paper Method
This is another successful method to find a job in Sri Lanka. Check Week and week-end news paper for Job opportunities advertisements and post or email your CV for relevant person of the company.
Fifth Method: Job Agencies and Online Job banks
There are so many online job agencies in Sri Lanka so you can check their sites for job opportunities and apply via email or post. Some of job board and agencies got their own system to get connected with companies and job seekers and this may vary site to another site.
Sixth Method: Ask from HR office
Get a call and ask for relevant recruitment officer or Human resource officer whether there are any job opportunities of that company and then apply for them.
Seventh Method: Check Government Gazette for Government Job
It is vital to check Government Gazette which published every Friday If you have interest to enter in to Government job. There are a lot of Government departments and institutes advertise vacancies on these gazette. You can check gazette by online or get Daily News or Dinamina paper on Friday.
IF you still don't have any job, try the methods which I mentioned will definitely useful for you to have a proper job. Those methods will also useful for those who currently working and planning for career advancement or job change.