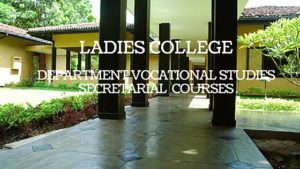 Ladies College Department Vocational Studies Sri Lanka is governed by the body of Governors of Ladies College Colombo and this institute was established in the year of 1981.  Ladies College Sri Lanka is one of the leading private school in Sri Lanka which got great and proud history. Department Vocational Studies of Ladies college has separate board of management and this institute conduct so many vocational training courses such as Secretarial Courses, Language Training Courses, Computer Training, Leisure Time Activities, Teacher Training Courses and many courses. Today we are going to discuss two courses under Secretarial Studies conducted by this institute. Normally the Secretariat Studies program divide in two sections such as Certificate in Secretairal Studies and Diploma in Secretairal Studies .There is a huge demand for secretarial studied in Sri Lankan corporate sector and most of girls are tend to follow these type of courses.
Certificate in Secretarial Studies
Duration: 6 months
Classes will held on Sundays
Entry requirement – English placement test
Course Content
Basic grammar / syntax
Spelling
Correct speech & writing
Exercises to improve grammar, speaking, listening,
Reading and writing skills
Formats for letters, memos, emails
Letters asking for information and assistance
Replies to inquiries
Saying what you can and cannot do
Offers and suggestions
Placing and confirming orders
More informal correspondence
Referring to telephone or previous conversations
Formatting agenda/minutes
Curriculum Vitae and covering letter
Business vocabulary building exercises and spelling
Secretarial Practice
Orientation and presentation
Confidential Secretary's role and pre-requisites
Importance of spellings, correct speech, time
Communication skills and assertiveness
Filing systems – methods and advantages
Telephone techniques
Follow up systems and call up diary
Processing mail
Public relations / reception
Meetings
Banking services and related information
Executive travel
Diploma for Professional Secretaries
Duration: 1 Year
Classes will held on Saturdays
Entry requirement – English placement test
Course Content
Role of a secretary
Letters, emails, memos, notices
Qualities and ethics of Secretaries
Meeting documents
Business administration
Interactive activities for improving
Customer service vocabulary, reading and
Managing meetings comprehension
Time management skills
Remedial grammar
Business etiquette and
Skill in Power social behavior Point Presentations
Public relations
Report writing
Those who successfully completed Certificate in Secretarial Studies or Diploma for Professional Secretaries got better chances for employment opportunities in Sri Lanka.
Contact Details of Ladies College Department Vocational Studies
For further details regarding the Secretarial Studies courses and other vocational courses conducted by
Ladies College Department Vocational Studies check following contact details to contact them.
Ladies' College
Department of Vocational Studies
27th Lane, Off Inner Flower Road
Colombo 3
Telephone : 2574194
Email : dvs@stmail.lk
www.dvs.edu.lk