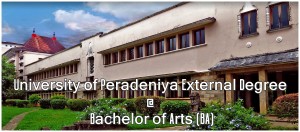 University of Peradeniya External Degree at Bachelor of Arts (BA) is one of the highly recongized external degree program and this Bachelor of Arts (BA) degree was conducted under the Centre for Distance and Continuing Education [CDCE] at University of Peradiniya. The facility of Arts at university of Peradeniya produce large number of graduates annually. Bachelor of Arts (BA) external degree program is one of the highly recognized BA degree programme in Sri Lanka. The subjects of Bachelor of Arts external degree programme curriculum was completely revised by introducing advance latest subjects to enhance the knowledge and skills of the degree holders.
The entireUniversity of Peradeniya External Degree at Bachelor of Arts (BA) program are arranged in to three level and one level for a academic years. The system was a credit based and credits are varying 100-300. The mentioned Degree program consists of a General Qualifying Examination (GAQ) and a General Degree Examination. A student should earn at least ninety credits to become eligible to graduate under BA at Peradeniya University.
Entry Requirement to follow University of Peradeniya External Degree at Bachelor of Arts (BA)
The basic requirement to enter this BA external degree program are to pass threes subjects for G.C.E Advanced Level examination in one sitting plus with a minimum aggregated Mark Z score which determined by the University Grant Commission of Sri Lanka.
Duration of Bachelor of Arts (BA) Degree Programme
The normal duration to follow this University of Peradeniya External Degree at Bachelor of Arts (BA) program is three academic years.
Classes of BA external degree
A student who has fulfilled all the requirements of the BA external degree shall be awarded a Class. In order to be eligible for a Class for the degree program student must complete the entire BA degree within three years unless extensions have been granted by the relevant Board of Study in Peradeniya University Centre for Distance and Continuing Education [CDCE]. Following are the classes obtain for this degree program.
| | |
| --- | --- |
| Class | CFGPA |
| First Class | ≥ 3.70 |
| Second Class (Upper) | 3.30 – 3.69 |
| Second Class (lower) | 3.00 – 3.29 |
| Pass | 2.00 – 2.99 |
How is the GPA Calculated?

The GPA for each student  for the degree program is calculated using the formula of following
GPA=∑cigi/
Gi = grade point of the ith course
Ci = number of units of the ith course
Course Modules of BA external degree program
Mathematics
Modern Arabic Language and Grammar
Morphology, Rhetoric and Syntax
History of Buddhism in India
Doctrines of Theravada Buddhism
Pre- Buddhist Phil osophical Background
Early Buddhist Philosophy
Introduction to Economics
Comparative Economic Development
Writing and Comprehension Skills in English
Pre Eighteenth Century English Poetry and Drama
French Language and Civilization
French Language, Civilization and Teaching Methodology 1
Human Geography
Physical Geography
Epic and Theatre
Science and Life
The History of Hinduism
Sources of the Hindu Tradition
History of Sri Lanka up to A.D. 1500
History of Sri Lanka up to A.D. 1500 to the Present
Primary Sources of Islamic Sharia
Islamic History 570-1258
Prescribed Texts and Tipitaka Literature
Unspecified Texts, Pali Grammar and History of Pàli Grammar
Problems of Philosophy and Practical Philosophy
Logic and Logical Theory
Theory and Practice of State and Government
Government and Politics of Sri Lanka
Sanskrit Grammar
Literature in Simple Sanskrit
Sinhala Practical Literary Grammar
Sinhala Literature and Drama up to the 19th Century
Introduction to Sociology and Social Anthropology
Sri Lanka Society
Modern Tamil Grammar : Phonology, Morphology and Syntax
Modern Tamil Literature and Literary Criticism
Classical Arabic and Rhetoric
Literary History – Jahiliyyah to 750 A.D.
Schools of Buddhism
Buddhist Art
Buddhist Ethics
Development of Buddhist Doctrine
Microeconomic Theory
Macroeconomic Theory
Eighteenth Century English Literature
Nineteenth Century British [and American] Poetry and Fiction
French Language, Literature and Teaching Methodology 2
French Language, Novel and Teaching Methodology 3
Advanced Human Geography
Advanced Physical Geography
Greek Literature
Roman Literature
Hindu Religious and Philosophical Thought
Hinduism in Sri Lanka
History of India from Ancient Times up to 1206 A.D.
History of India from 1206 A.D. to the Present
Islamic Jurisprudence
Science and Aesthetic in Islam
Texts and Post Canonical Literature
Unspecified Texts – Translation and Pali Grammar
Greek, Medieval and Islamic Philosophy
Political and Social Philosophy
Public Administration: Theory and Practice
Political and Social Theory
History of Classical Sanskrit Literature
Sanskrit Literature in Advanced Sanskrit
Sociological and Anthropological Theories
Research Methods in Sociology and Social Anthropology
Sociological and Anthropological Theories
Research Methods in Sociology and Social Anthropology
Communication and Journalism in Tamil
Tamil Literature in the Medieval Period
Arabic Literary History from 750 A.D to Modern Period
Composition and Translation of Arabic
Asian Buddhist Culture
Sri Lankan Buddhist Culture
Social and Political Philosophy of Buddhism
Buddhism and Problems of the Philosophy
Sri Lankan Economy
Development Economics
English Literature of the Twentieth and Twenty First Centuries
Topics in the Study of the English Language
French Language, Baudelaire and, Teaching Methodology 4
French Language, Novel and Theatre and, Teaching Methodology 5
Cartography
Regional Geography
Greek and Roman Literary Theory
Greek Thought
History of Hindu Art and Architecture
History of Hinduism in North India and South India
History of Europe, 1453 – 1945
History of the Twentieth Century World
Theology and Politics
Islamic Banking and Finance
Canonical and Post-Canonical Texts
Unspecified Texts: Translation and Prose Composition, Pali Grammar
Indian Philosophy
Modern Western philosophy
Comparative Politics and Government
International Politics
Translation and Composition in Sanskrit
Theories of Literary Criticism in Sanskrit
Introduction to Language and the History of Sinhala Language
Culture and Folklore
Sociology of South Asia
Applied Sociology
Classical Literature in Tamil
History of Tamil Language and Grammatical Tradition
Arabic Short Stories and Narratives
Astrology (Jyotirvidyā) and Sri Lankan Society
Āyurveda, Society, and Cultural Practice
Colloquial and Communicative Sinhala
Basic Tamil
Buddhist Counseling Psychology
Buddhist Counseling Psychology
Buddhist Psychology
Environmental Studies
Introduction to Statistics
International Relations in Islam
Logic and Scientific Method
Project Formulation and Evaluation
Writing Skills and Academic Writing in Sinhala
Writing skills in Tamil
Application call for follow this "BACHELOR OF ARTS GENERAL (EXTERNAL) DEGREE PROGRAMME" once per year  and The Centre of Distance and Continuing Education, University of Peradeniya is normally use to call application on mid of the year for further details regarding applications or other details regarding this this Bachelor of Art External Degree program you may contact the followings.
Contact for further Details
Centre for Distance and Continuing Education [CDCE]
P.O.Box 43,
Old Galaha Road,
Peradeniya,
Sri Lanka.
Telephone :+94812392218
Fax: +94 81 238 (9206)
Email: cdce@pdn.ac.lk
Web :http://www.pdn.ac.lk/cdce/Ba.php#