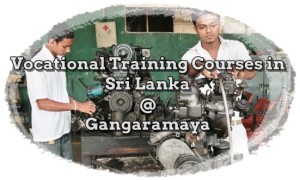 Sri Jinarathana Vocational Training Courses in Sri Lanka is one of the leading vocationa  educational institute which conduct over 50 technical courses. There are no fees charge to follow the programmes this institute is governed under Gangaramaya temple. Gangaramaya Monastery, under the guidance and supervision of Ven. Galboda Gnanissara Nayaka Maha Thero, and this institute is totally funded by this temple. This is one of the ultimate quality private vocational education provider in Sri Lanka and most of the courses are conduct free of charge.
This Gamgaramaya vocational training center courses are got high recognition all over Sri Lanka as one of the best vocational program. There are lots and lots of technical and Vocational Training Courses in Sri Lanka which conducted by this institute and following are some of them.
Photography and Videography Course
electronics Course
Motor Mechanism Course
Tinkering Course
Electrical Wiring Course
Painting Course
Welding Course
Arc Welder
Electrician
Electronic Equipment Repair
Motor Winder
Ref & A/C Mechanic
Litho Machine Operator
Juki Machine Repairer
Automobile Mechanic
Automobile Electrician
Jewellery Maker
Motor Cycle Mechanic
Blacksmith Course and many more
Vocational training center courses conduct at Gangaramaya on Information Technology
There is a Computer institute also established under Sri Jinarathana Vocational Training Institute to provide qualifications in Information technologies. Following are some of the certificate and diploma programs conducted under this institute.
Diploma in Microsoft Office
Diploma in Hardware Engineering with Networking
Diploma in Network 2003/XP Administration
Diploma in Graphic Design
Certificate Course in Mobile Phone Repairing
Entrance Qualifications to enter in Vocational Training Courses in Sri Lanka Gangaramaya
To get enter the following program applicant need to get pass at least G.C.E Ordinary Level , but there are some program which can follow for those who are successfully pas grade 8 also.
There are more chance for those who successfully completed the programmes under Sri Jinarathana Vocational Training Institute to get a job by the supervision and guidance under this institute.
For More details contact of Vocational Training Courses in Sri Lanka Gangaramaya:
For further details of this institute you may contact the followings.
Sri Jinarathana Vocational Training Institute
142 Sir James Peiris Mawatha, (Sri Jinaratana Rd)
Colombo 2
Tel: (94) 11 2386638
vocational training center courses Kandy Branch
2C, Sangaraja Mawatha, Kandy
Tel: 081 222 7597/ 077 347 8600
Web: http://gangaramaya.com/vocational-training/